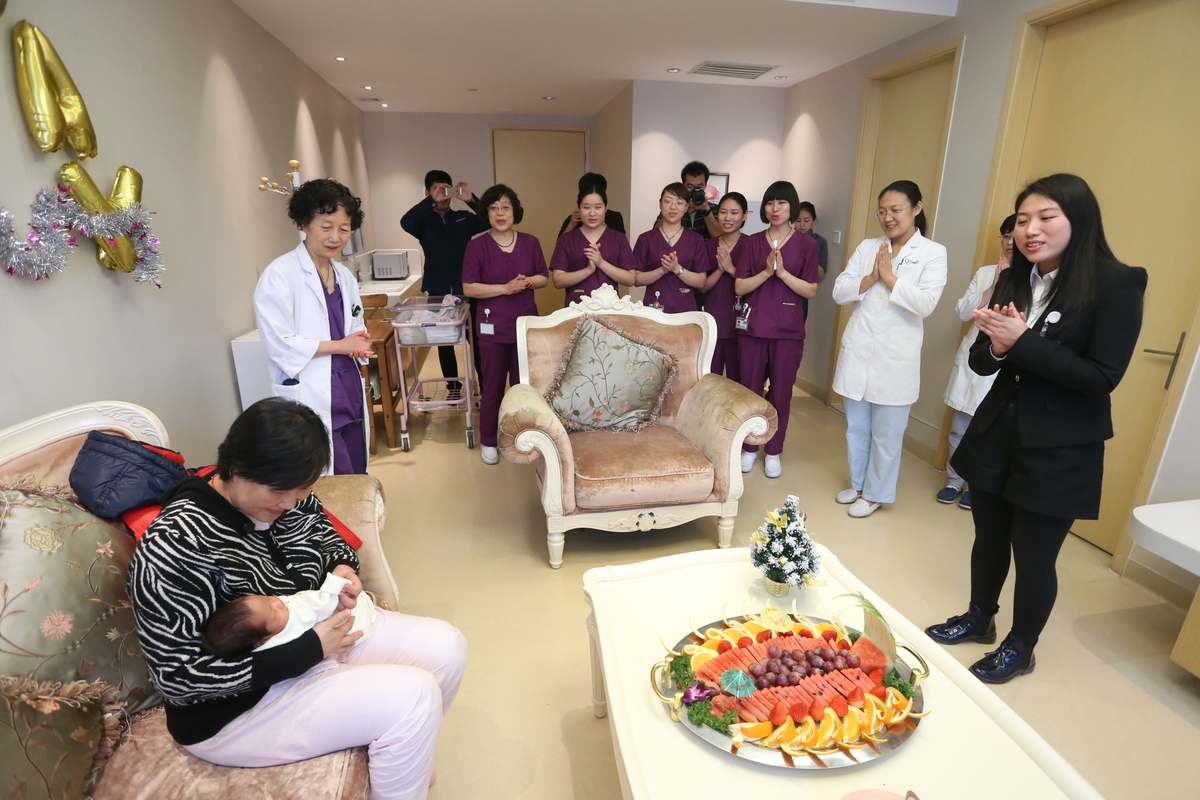 On a Monday afternoon, Wang Xin, a 35-year-old private equity partner in Beijing, enjoys exclusive services of an ophthalmologist at a private hospital. In the meantime, the ophthalmology departments in the city's public hospitals are filled with patients.
Consultation fees at a private hospital in Beijing range from 500 yuan ($71) to 2,000 yuan. Although that is much higher than the cost in public hospitals, Wang said it is worth it.
"Before seeing a doctor in a private hospital, I can make a reservation by phone. I don't need to wait in line. In addition, the service and environment are better. I have a pediatrician whom I usually take my son to. The pediatrician is familiar with my son's physical condition, and apart from face-to-face consultation, I can also ask him questions by phone. It is as if we have our private doctor," she said.
A recent report by online industry information network Chyxx said that China's high-end medical industry has been expanding rapidly during the past years and in 2018, the market volume reached 423 billion yuan, up 20.9 percent year-on-year. Hospital visits in the sector increased by 25.1 percent year-on-year to 14 million.
Unlike basic medical services, high-end medical services mainly target the high-income group. The service is personalized, charges are high, there is abundant time for consultation and doctors usually have rich work experience, with many having worked in the country's 3A-grade hospitals. Currently in China, high-end medical services are offered by private hospitals and the VIP departments of public hospitals.
According to the report issued by US private equity giant Bain Capital, in 2018, China's high net worth individuals, or those who own more than 10 million yuan worth of total assets, reached 2.29 million. This group of people have increasingly high demands toward medical services. Apart from getting basic medical treatment, they also have personalized needs such as health management, prevention and screening.
"The high-income group's degree of satisfaction toward public medical services is generally low. They wish to get better medical services and are willing to pay higher prices. Besides, apart from basic medical treatment, they also want to get personalized services, which public hospitals cannot offer satisfactorily," said Shi Anjie, a research fellow at VCBeat Research, an industry research organization under vcbeat.top, an online healthcare website.
"The growth of the high-income group has created market demand for the development of China's high-end medical industry," he said.
The government's favorable policies have also promoted the development of the sector. Under the background of deepening medical reform, the country had in past years issued a series of guidelines to lower the threshold for setting up privately run and foreign-venture hospitals.
In addition, surging capital investment into the high-end medical sector is another driving force. According to Shi, the resources of specialists in public hospitals are limited, which creates opportunities for the highend medical sector.
"Especially, those fields with relatively low policy barriers and technical barriers, such as stomatology, gynecology and obstetrics, and ophthalmology, tend to be approved by the capital market preferentially, turning major investment targets in the short term," Shi said.
"Meanwhile, fields, such as pediatrics and rehabilitation, which are overlooked by public hospitals because of low drug requirements and high difficulty in diagnosis and treatment, bring opportunities for the high-end medical sector. These fields will possibly become a hot spot for the capital market in the next stage," he said.
In the longer term, the expansion of the high-income group will further promote the development of the sector, and the sector will expand from first-tier cities to second-tier cities. Capital will also flow to departments with higher technical barriers, said Shi.
"We felt so lucky to set up hospitals in China," said Roberta Lipson, CEO of private international hospital United Family Healthcare, during an interview with Sibaiwei, a healthcare media outlet under news website Zaker.
"Twenty years ago, when we opened our first clinic in China, 99 percent of our patients were foreigners. At that time, Chinese patients thought private hospitals could not compare with those public 3A-grade hospitals. Now, 75 percent of our patients are Chinese."
The high-end medical industry has great potential in the country, she said.
(
By Zheng Yiran | China Daily
)